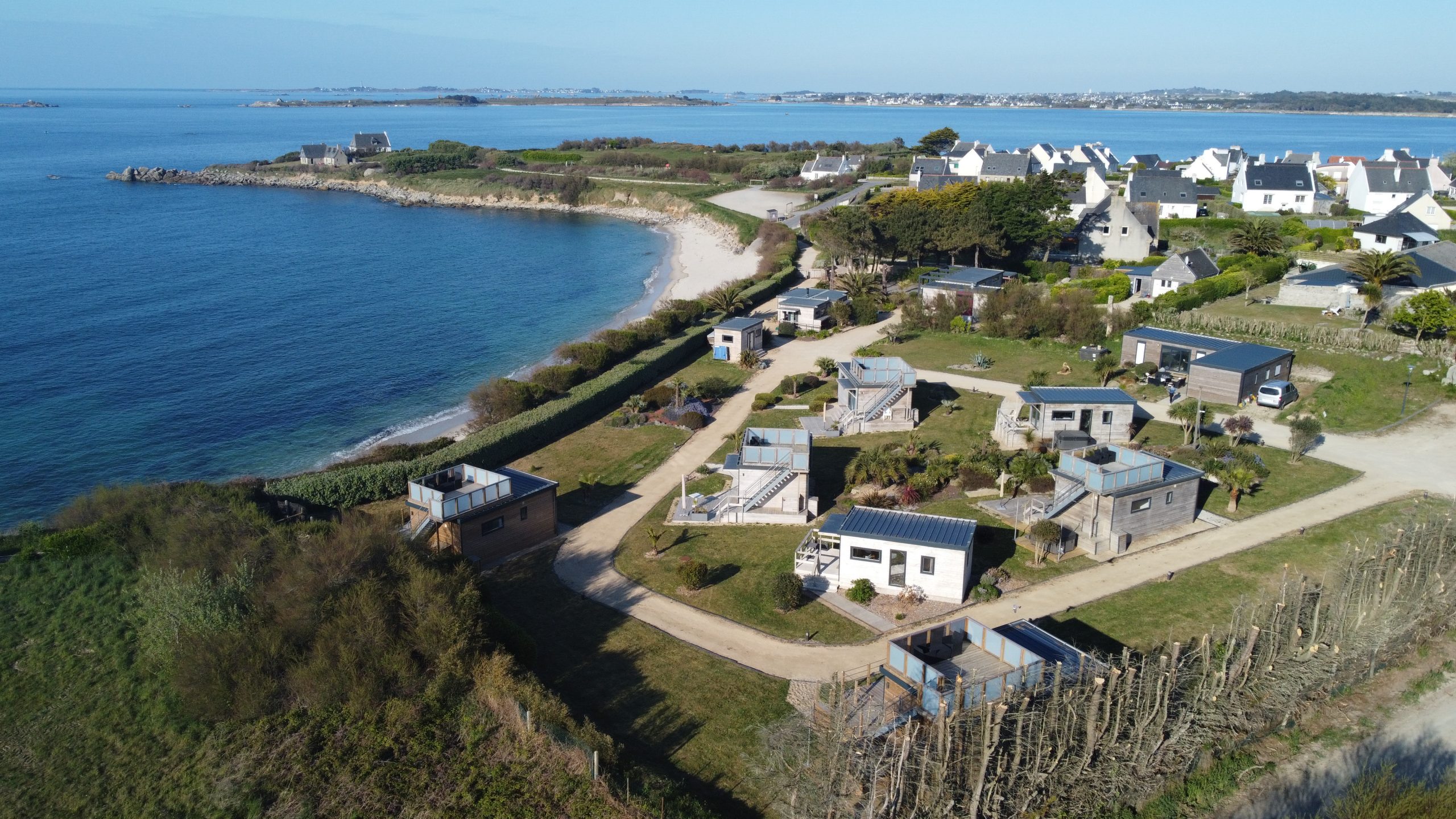 Restaurant | Hotel-de-plein-air

Restaurant just steps from the beach

Grand Comfort Lodges with sea view

Located on the waterfront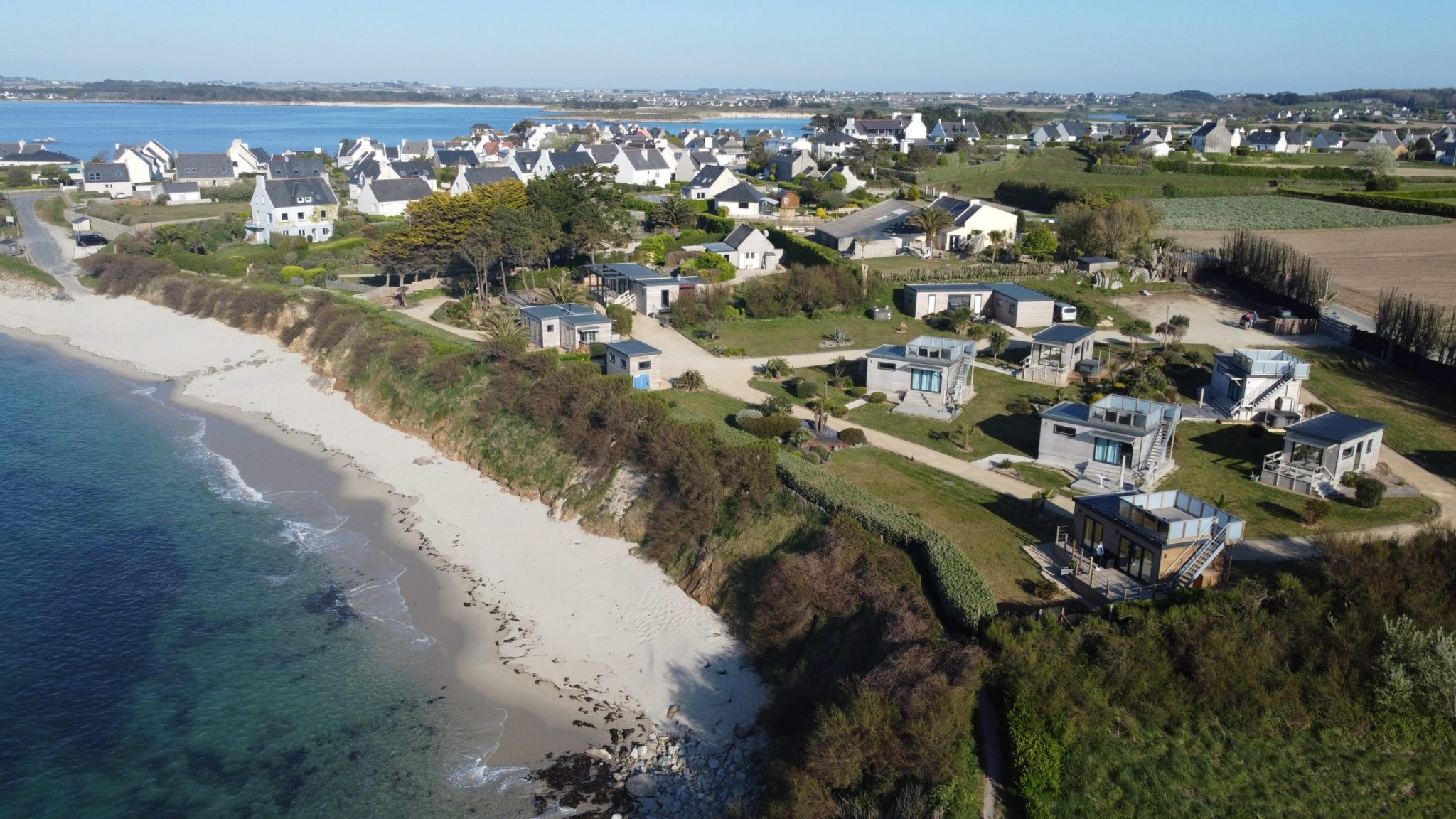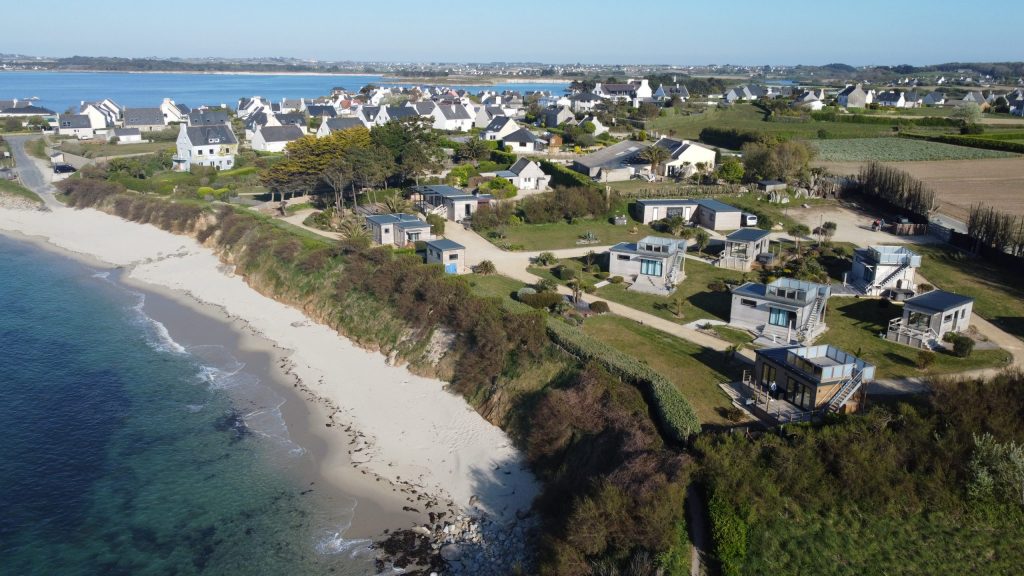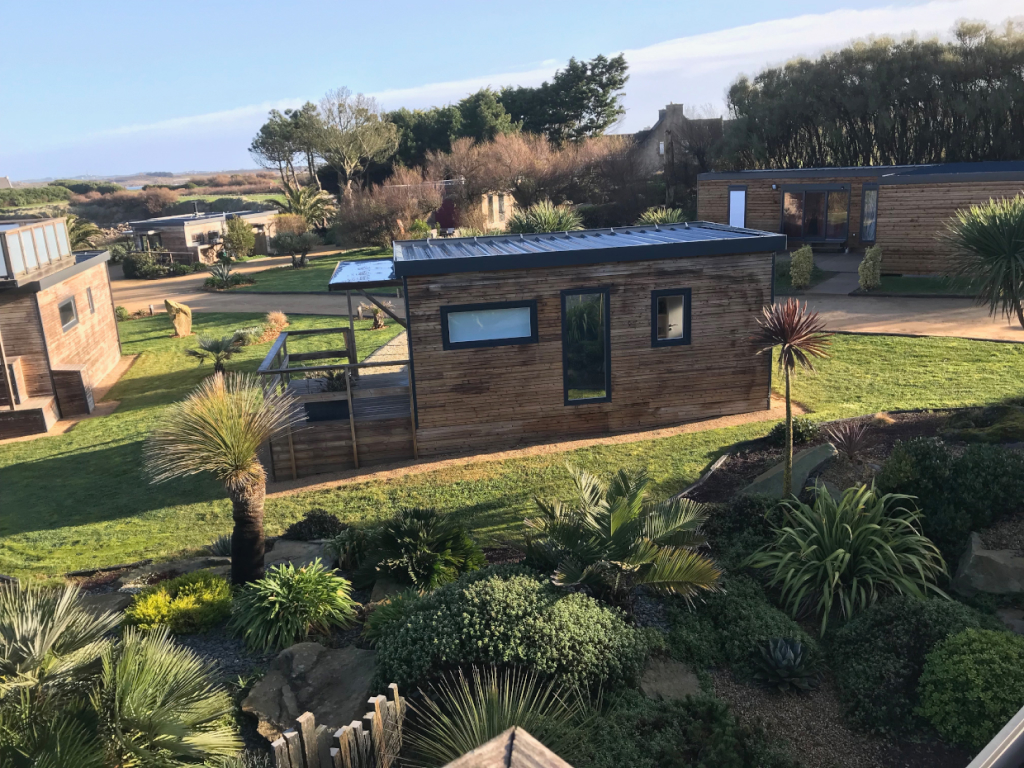 About the campsite
The season resumes on Friday, March 11, 2022.
Nestled in a green setting and bordered by a white sandy beach, the Domaine du Theven welcomes you to share a gastronomic moment, with an exceptional view of the sea, the lodges offer you a privileged moment for a night, a weekend or an extended stay.
The Domaine du Theven offers family / group / birthday meals and event privatization.
The Lodges
Adults only – Lodges for 2 persons only
7 individual lodges of great comfort with careful decoration implanted in a botanical garden with sea view. This exceptional setting invites you to recharge your batteries for a night, a weekend or more, with the sea as your only horizon
Our establishment is happy to welcome you.
Restaurant with
sea view
Catering | breakfast by the sea
The Theven's restaurant offers a creative and home-made cuisine, composed of local products: seafood, fish, meat, etc…
Comfortably installed, enjoy a cosy atmosphere and a magnificent view of the sea.
Non contractual pictures
Seasonal menu of the moment
Seafood platters only on order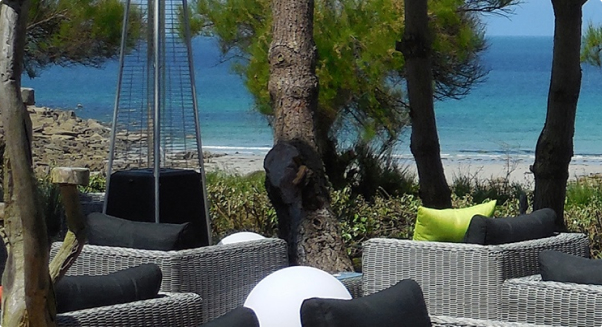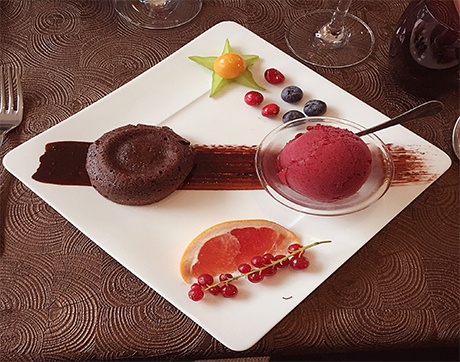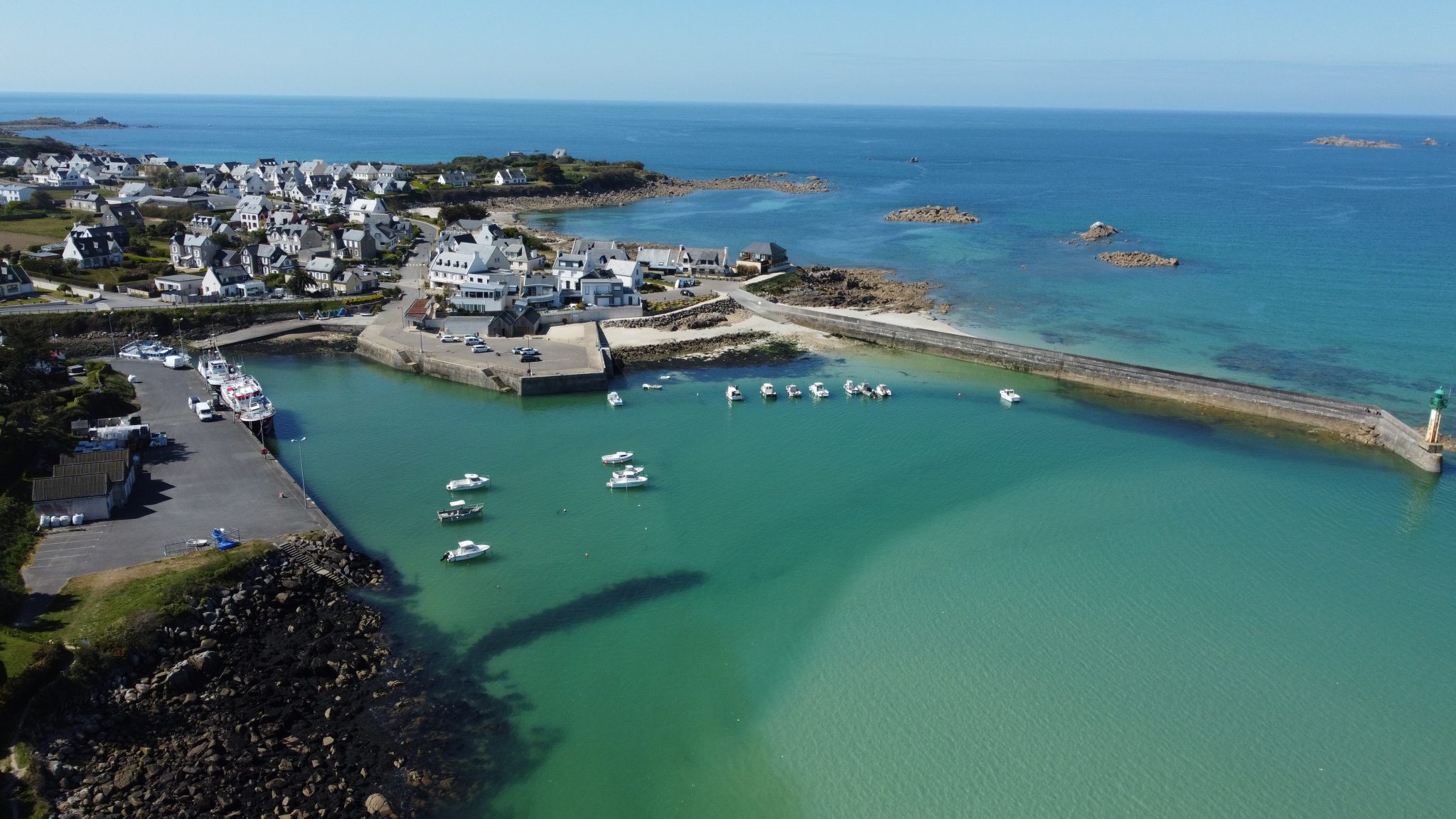 A few steps away
Morlaix (40mn) : medieval city, the bay, shopping areas
Saint-Pol de Léon (10 mn) : Cathedral, supermarkets, shopping, cinema, theater, restaurants
Plouescat (10mn) : horse riding, casino, cinema, the Bay of Kernic, beaches
Sibiril/Plougoulm (5mn) : butcher's shop, local shops, strawberry greenhouses, beaches
Cleder (5mn) : Supermarket, local shops, Les Amiets, beaches
Dossen beach (10 mn) : sand yachting, sailing, surfing and stand-up paddle
Mogueriec : surf school, beaches, fishing port
Coast of legends (20mn)
Coast of Abers (35mn)
Roscoff (15mn) : thalassotherapy, ferries to England, Spain, Ireland, exotic garden and casino, embarkation for Batz Island
Carantec (15mn) : 9 holes golf course, sailing, restaurants, Callot Island, boarding for the Château du Taureau
Brest (40mn) : Océanopolis, port and marina, museum, departures for Ouessant and Molène
Numerous megalithic sites in the vicinity
Other golf courses than Carantec: www.golf-armorique.com
Landivisiau : capital of the Finistère region
GR 34 (from Mont-Saint-Michel to Saint-Nazaire)
See more
Markets: Guerlesquin, Saint-Pol-de-Léon, Plougasnou, Plourin-lès-Morlaix, Roscoff, Landivisiau, Sizun, Locquirec, Carantec, Saint-Jean-du-Doigt, Plouigneau, Saint Pol de Léon, Moguériec, Cléder, Lanmeur, Pleyber-Christ, Plounéour-Ménez, Plouescat, Morlaix, Saint-Martin-des-Champs, Kerfissien
The megaliths: The menhirs (Breton word meaning "standing stone") could indicate a nearby burial or, for example, mark the limit of a territory in the form of a circle (cromlechs).
Stone and culture Brittany keeps a part of mystery with its granite chaos.
Castles and manors: If you pass through Cléder and Sibiril you will have the opportunity to see castles, but also manors, classified as historical monuments.
Nature and wide open spaces: Choose protected dunes, for miles or discover steep creeks… In the hinterland, it's also a treat of biodiversity, between woods and lakes.
Monts d'Arrée (40mn) : Natural regional park of Armorique, enchanted forest of Huelgoat
The cathedrals of the sea: The lighthouses are considered as the protectors of the sailors who, at sea, meet dangers.
"A destination with character for people with character" During your walks on the beach, don't hesitate to come and discover the beautiful shipowners' houses, the cathedral, our castles and manors.
The parish enclosures: Unique in Europe, they are today the witnesses of a religious fervor, an artistic talent and an exceptional splendor of the past centuries.
The sand coast: Discover the sand coast with its 22 kilometers of sand for 45 kilometers of coast.
Stroll and hike: Many circuits are available in the tourist offices as well as in the hiking guides